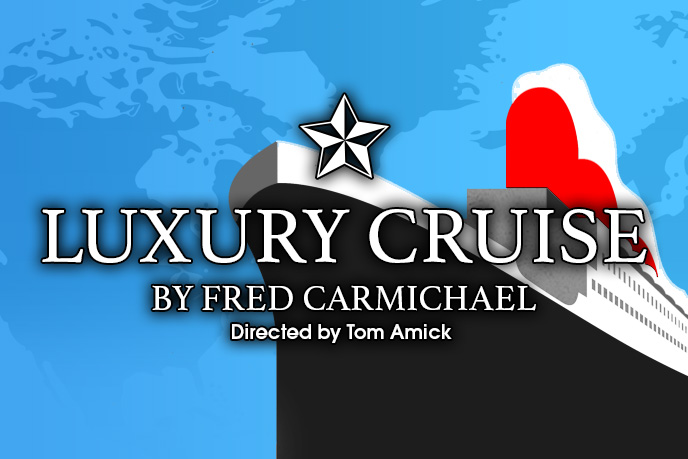 Luxury Cruise
---
Feb 23 & 24, Mar 2 & 3, 2018 at 7:30 pm
Feb 25 & Mar 4, 2018 at 2:00 pm
---
Comedy Written by Fred Carmichael
Directed by Tom Amick
Ticketing Open
Individual Ticket Pricing
Call the Capitol Theatre Box Office at (717) 263-0202 or Purchase Online.
Adults - $21

Students (13-College w/ ID) - $16

Children (Age 12 & Under) - $11
The Capitol Theatre Box Office is open from 11:00 A.M. - 4:00 P.M. Monday thru Friday and one hour prior to show. 
Ticket Prices INCLUDE a Capitol Theatre Service Fee of $3 and children under age 3 are not admitted at any time.
---
Did You Know We Offer Group Rates?
Synopsis
Each of the three acts tells the story of a different couple aboard the SS ANDREA DEL SARTO on a world cruise: two antiquated ladies on their first trip, a married couple who know the husband is about to die, and a flashy bride who won the trip and is determined to bring culture to her husband (who is only interested in testing his poker ability with his fellow passengers). One is comedy, one more serious and the third farce. Episodes of the three couples along with three additional cast members are interwoven throughout the show.
(Comedy/Drama/Farce, Rated PG)
AUDITIONS
Auditions are October 22 & 23, 2017 from 6-8 PM in the Chambersburg Community Theater Office, located at 159 S Main St.
Please be prompt as doors will be closed 15 minutes after auditions start. Persons auditioning will be asked to do a cold read from the play's script. Knowledge of the material is encouraged but not required.
Please note that the ages suggested are those of the characters not the ages of the players who might assume the roles. Those who audition do not have to be the ages of the characters, just be able to portray the age range listed.
CHARACTERS
VERLA SIMPKINS - elderly, the leader of the two sisters. (217 lines)
CECILIA SIMPKINS - elderly, has more get up and go of the two sisters. (202 lines)
LOUSIA - the stewardess, young & attractive, Italian accent.** (44 lines)
ARTURO - the steward, young & handsome, Italian accent.** (59 lines)
LILLIAN GREGORY - middle age, extremely well off, says what she thinks. (90 lines)
DREW WATSON - attractive, middle age, delightful sense of humor. (108 lines)
FRAN WATSON - charming, middle age with a depth of understanding. (188 lines)
HAMILTON FOOTE - big, loud, imperfect grammar, but the salt of the earth. (114 lines)
CORINNE FOOTE - younger than Hamilton and underneath the makeup is a pretty girl. (138 lines)
** An Italian accent is welcome for these roles but not mandatory.